In a world of Facebook and Kindles it is easy to forget the importance of sitting together with your child and reading an actual book. It is important to teach your child a love for learning and one of the ways to do that is to foster both learning to read and reading to learn. This foundation for learning begins with babies. Exposure to books, even as babies, is a learning experience. It is a time to bond with your child and engage with them as they learn through books.
The first few months and years of life offer a wonderful opportunity to build connections in the children's brains, and those can be reinforced to last a life time.

Pamela High, director of developmental-behavioral pediatrics Hasbro, Children's Hospital, Providence RI.
How do you teach children to love to read?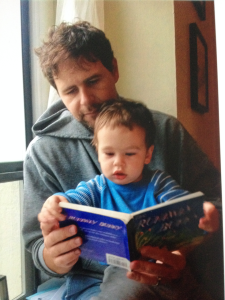 Let them experience their own books, check books out from the library, make story books from pictures of places and people they are familiar with, have them witness the adults in the world reading books.  They can learn to be respectful of books.  If they are prone to tear (or chew) on the pages give them board books, buy inexpensive books or give them cloth books.  When they are sitting on your lap you can talk about how to "touch the book gently".  Keep special books up out of reach but give them a bookshelf with their own books on it. Be sure to set aside a specific time to read to your child.
Reading to children is more about the bond and relationship than the words you are saying.  It is about building upon their interests and your attention to them that engages them in learning through books. The primary purpose of reading to a young child is not the content of the book but to engage with the child through conversation as you share time together.

The 5 R's
The American Academy of Pediatrics is encouraging parents to build on their child's learning through the practice of the 5 "R"s: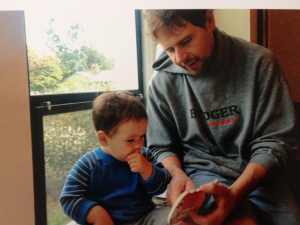 Reading – together as a family activity
Rhyming – talking, singing, using language throughout the day
Routines – keeping a child's schedule consistent
Rewards – acknowledging your child's achievements
Relationships – building strong, healthy relationships between children and trusted adults
My sons have strong attachments to 'their books'.  I read to the boys whenever they wanted during the day but their 'special time' was when Daddy read to them a night.  We all have fond memories of that special bedtime ritual. They would snuggle up in Joel's bed to read their bedtime stories.  (and I never knew who would fall asleep first  — one of the boys or Curt!)  At the beginning the bedtime stories were short and simple.  As they grew older their interest in books became more complex.  What began as Curious George and Beatrix Potter's Peter Rabbit moved on to Beezus and Ramona, The Redwall Series and The Lion, the Witch and the Wardrobe and on to books by Tolstoy and J.R.R. Tolkien.  Even though they matured and spent more and more time reading on their own they always had time for a story told by Dad or listening to him read a chapter from a favorite book.  When are they too old to listen to a story?  Never!  We still have reading time when the guys are home during the holidays but now I get to be there and Curt usually stays awake!
They have many (!) books in their collections are varied and mirror their personalities but both of their collections include the books that Curt read to them as children.   Books connected them  to people and the world.  They learned to love reading and that turned into reading to learn.  Books are an opportunity to build a relationship with your child as they snuggle in your lap – a memory you will be able to cherish long after they are grown and on their own. 
The interaction between children and parents when engaged in literary activities strengthens the building blocks which facilitate the development of language, reading and writing skills. 

Mayra Mendez, Providence Saint John's Child and Family Development Center, Santa Monica CA
Take time to introduce your child to a lifetime of knowledge by learning to love reading and books.  You will never regret introducing your child to the world of books.